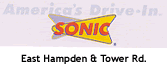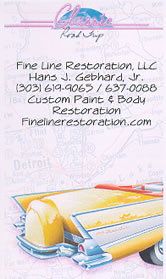 .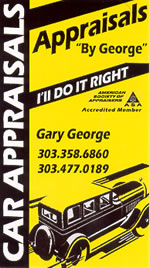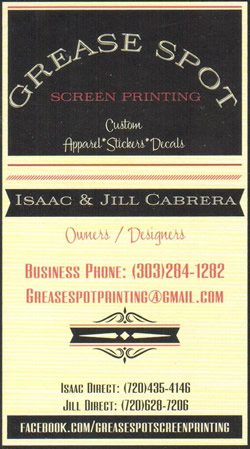 | | |
| --- | --- |
| | Welcome to CruisinProductions.com, Colorado's #1 Cruise Night and Car Show connection! Cruisin' Productions is your link to the coolest free car shows in the Colorado region. All shows are hosted by Cruisin' Dave himself! So, wax'em up, crank some tunes, burn some rubber and come cruise with Dave for good eats, great music, and cool prizes! Click on month below to view our shows! |
March - April - May - June - July - August - September - October

We welcome you all to be a part of a spectacular 2017 cruise night and car show season!
March - April - May - June - July - August - September - October
Ken & Leslie Automotive Products are proud sponsors of DJ "Cruisin' Dave" at the following shows:

Rockabillies with DJ "Cruisin' Dave"- Saturday, May 20th, 2017


C-4 Hot Rods Restoration with DJ "Cruisin' Dave" - Sunday, June 18th, 2017

Rockabillies with DJ "Cruisin' Dave"- Saturday, June 24th, 2017

Back Street Tavern and Grill with DJ "Cruisin' Dave" - Sunday, July 9th, 2017

Sonic Drive-In (Aurora/Hampden & Tower Rd.) with DJ "Cruisin' Dave" - Friday, July 21st, 2017

Rockabillies with DJ "Cruisin' Dave"- Saturday, August 12th, 2017




Proud sponsor to the DJ Cruisin' Dave and prizes at:

Broomfield Plaza Shopping Center - Sunday, May 28th, 2017

Proud sponsor to the DJ Cruisin' Dave and Prizes at this events:

1. Rockabillies - Saturday, May 20th, 2017

2. Broomfield Plaza Shopping Center - Sunday, May 28th, 2017

3. Back Street Tavern and Grill - Sunday, July 9th, 2017

Proud Sponsor to Cruisin' Dave and Prizes at the huge "Hot Rod Stomp" at Back Street Tavern and Grill, Sunday July 9th, 2017- 10:00 AM to 1:00 PM


Proud sponsors of Cruisin' Dave and prizes:
- Kenz & Leslie Automotive Products Distributors
- Martinez Auto Repair
- The Clip House
- Wheels of Time Auto Restoration
- OnTrack Performance Auto Parts

Proud Sponsor to Cruisin' Dave and Prizes at two very special events:

1. The huge "Hot Rod Stomp" at Back Street Tavern and Grill, Sunday July 9th, 2017- 10:00 AM to 1:00 PM
2. Aurora - Sonic Drive-In, 18501 E Hampden, Friday Night, July 21st 2017 5:00 - 8:00 PM




Proud Sponsor to Cruisin' Dave and Prizes at the all new "Cars Remember When" 1st Annual Car Show and Cruise-In Day, Sunday July 30th, 2017

Special thanks for sponsorship of DJ Cruisin' Dave and prizes at four spectacular events.

1. The Broomfield Plaza Shopping Center presents the Rocky Mountain La-La Palooza Car Show- Sunday, May 28th, 2017 - 10:00AM to 1:00 PM
2. BackStreet Tavern & Grill "Hot Rod Stomp" - Sunday, July 9th 10:00 AM to 1:00 PM
3. Rock-A-Billies Pin-up Content / Cruise Night - Saturday, August 12, 2017 - 5:00 pm to 7:30 pm

Special thanks for sponsorship of DJ Cruisin' Dave and prizes at four spectacular events.

1. Broomfield Plaza Shopping Center - Sunday, May 28th, 2017
2. Back Street Tavern and Grill - Sunday, July 9th, 2017
3. Sonic Drive-In (Aurora/Hampden & Tower Rd.) - Friday, July 21st, 2017
4. Rockabillies - Saturday, August 12th, 2017





Special thanks for sponsorship of DJ Cruisin' Dave and prizes at four spectacular events.

1. Broomfield Plaza Shopping Center - Sunday, May 28th, 2017
2. Back Street Tavern and Grill - Sunday, July 9th, 2017
3. Sonic Drive-In (Aurora/Hampden & Tower Rd.) - Friday, July 21st, 2017
4. Rockabillies - Saturday, August 12th, 2017

Special thanks for sponsorship of DJ Cruisin' Dave and prizes at:
- The Back Street Tavern and Grill - Sunday, July 9th, 2017


A special thanks for sponsorship of DJ Cruisin' Dave and Prizes from:
- Wheels of Time Restoration
- Alpine CARSTAR Auto Body
- Jordan Rd. CARSTAR Collision
- Kenz & Leslie Automotive Products Distributors
- Colpar Hobby Town USA
- OnTrack Performance